Athletic Calendar
Baseball History
The early accounts of baseball in Egypt indicate that the love of the citizens of the village for our national pastime was as strong in the 1920's, 30's and 40's, as it is today. The records of Egypt teams from the days of the Kleckner A.C. and the Egypt A.A. to Our present day youth teams and the Egypt Orioles indicates that the skills of the players representing Egypt has not diminished. In the early days Egypt won many championships in the Lehigh Valley Semi-Pro League, the Lehigh Valley Twilight League and the Cement Boro League. This winning tradition has continued over the years and is evidenced by the many championships won by our youth teams and the fact that the Egypt Starters Orioles are the defending 2004 Blue Mountain League champs.
Egypt showed early evidence of developing not only skilled players but also in developing a high degree of fan interest. Egypt was one of the first teams to introduce Ladies Day. That was an innovation back then and proved to be highly successful. Not only did the presence of ladies at the games add much color to the scene, but they proved to be enthusiastic about the game as their male counterparts.
The names of many outstanding players come to mind when one relives the history of baseball in Egypt, but it would take an encyclopedia to mention all of them and their accomplishments. But there is one graduate of Egypt baseball whose accomplishments must be mentioned when writing about baseball in Egypt. Curtis Thomas Simmons, known as Curt, was a typical American boy with a love for all sports. It was common sight to see him on the playing fields of Egypt engaging in baseball, basketball, and football, often times against boys much older than he. It was in baseball however, that Curt really excelled and today, almost 60 years later the people of Egypt still feel a sense of pride when discussing his career from his Whitehall High School days and American legion days to his years as a pro with the Philadelphia Phillies. Curt, as a pitcher for Whitehall High and Coplay American legion, often times struck out 17-23 batters a game and many times his bat was responsible for the winning runs.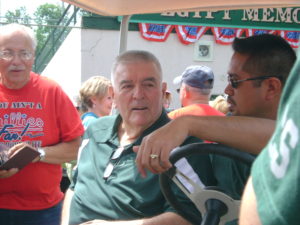 Today baseball is still an important part of life in Egypt and from early spring until fall, countless numbers of girls and boys are seen wearing the green baseball cap with the Silver 'E', still showing that baseball is alive and well in Egypt. Perhaps a future major leaguer is among them. But more important than that is the fact that as long as there is a place for them to play and someone to help coach them, they will have a chance to play and enjoy our national pastime. In closing, the purpose of this park and our being here can best be summed up by quoting William "Cy" Morgan of the Philadelphia Phillies when, at the original dedication, he wrote: "In the dedication of this beautiful park a glorious opportunity is presented to the youth of this community, for where place is provided for boys and girls to play there need be no fears for their future."